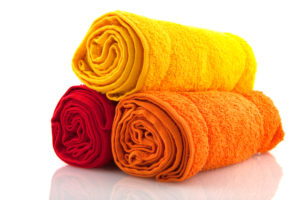 For visionary leaders, fierce determination and strong feelings about how things should be run often lead to hidden conflict with your employees. They are watching you and working to please you, often by keeping the lowest profile possible, or by dropping everything to fix the "one thing" you were on them about yesterday.
Do these stories sound familiar? Are your employees focused on you…or on what the customer needs?
For one client, the founder of a day spa, tension and arguments came to center on towels: getting them dried right (to be fluffy), folded neatly, distributed to the right places in stacks that were beautiful.
Yes, beauty in a stack of towels.
Sound obsessive? If you're running a high-end spa in exclusive Buckhead in Atlanta, that is just the beginning of the obsessions. She was frustrated both by having to redo the towels herself and by high staff turnover.
For a well-known architect, it meant that staff signaled each other about the expression on his face when he walked in the door.
Were their designs going to be torn apart today? Or was he going to be super-sweet?
For the owner of an earth-moving company, it meant that employees were texting each other when his car was spotted coming into a job site. If only they would focus that much attention on keeping up their vehicles and safety!
The challenge for high-energy people here is two-fold:
Understand how the high energy you carry radiates out to everyone around you and use it purposefully in every interaction.
Build a culture that transmits the joy and value of your obsessions.
Many business owners we have worked with had little idea of their outsized impact on the people around them. "They stop talking when I come around. I don't get what's really on their minds. They just scramble to do what I say (on a good day) or say they get it and they'll do it, then don't".
But unless you want to micromanage every stack of towels, or every design, or every pile of dirt, you've got to have a culture where it's as if the air itself transmits your values.
"I just want things right! That's how I built this business."
"It's so simple – why is it so hard for [employees] to get it."
"How could they not see that (messy towel stack, unbalanced design, cost of poor maintenance) when it's right in front of their face?"…
and finally, "But I've told them and told them! We have checklists!".
One of my mentors used to say…"Your actions speak so loudly, I can't hear a word you're saying."
For the architect, the solution was to take a few minutes before getting out of his car and just breathe. Checking in with how he was feeling helped him focus the strong feelings he had about the blah designs he had seen yesterday. Over time he stopped exploding in an angry lecture at the project's team. He focused his fierceness to pass on what it takes to dig in and question a design from the perspective of the customers' customers and to help new designers push aside ego to make the building both practical and elegant – the firm's trademark.
To build a living, breathing culture that embodies your values takes at least a couple of years, followed by forever maintenance and infusions of enthusiasm where your actions and those of every leader in your company show you stick to those values. There are also four structural needs:
Discover and articulate your real and dynamic core values
Build those core values into every hire, reward, and yes, every employee separation
Breathe life into them on a regular quarterly pulse
Support and sustain them with documented processes – and sometimes even checklists!
If you are working for or with a visionary who drives you crazy, help them implement some sort of system to clarify for everyone around them what, exactly, they are trying to bring into being. What talents and skills do you have to evaluate the feasibility of an idea? To move it forward?
It takes patience on both sides; patience that leads to amazing visions becoming a reality in the world of business.
If these steps seem vague, or overwhelming, you will not be surprised that I recommend implementing a great system by hiring an EOS Implementer. Let's set up 20 minutes on the phone to see if we can help you. Contact us here