Business Owners Event
Learn how to:
Crystalize your vision & get everyone on the same page
Gain tremendous traction by building discipline & accountability
Create a healthy, functional & cohesive leadership team & company
Implement growth-oriented leadership in your organization
Contact Us for more details about this fun filled evening
Thursday, May 1, 2013
 In this dynamic presentation, Lynda will introduce the Six Key Components™ of successful businesses and arm attendees with a set of simple, proven tools which can be implemented immediately. Attendees will learn:
How to crystalize their vision and get everyone on the same page, going in the same direction.
Tips to gain tremendous traction by building discipline and accountability into the organization.
Ways to create a healthy, functional and cohesive leadership team and company.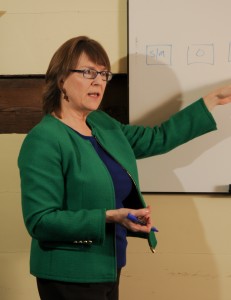 Attendees will learn how to assess their particular organization and apply tools to focus all energy and resources to have the greatest impact, eliminate chaos and complexity and create clarity and simplicity. This real-world, proven system will equip attendees to get the most out of their businesses and is based on the book "Traction: Get a Grip on Your Business." Each attendee of the training will receive a copy of the book.
For more than three decades, Lynda has been helping entrepreneurs and their leadership teams succeed. She uses real world experience and leadership insight to help organizations implement growth-oriented leadership in their organization.
Contact Us for more details