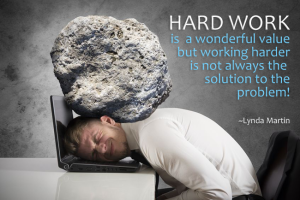 We hear this a lot this time of year. If you're like most business owners, you're moving fast to juggle the 137 things you need to get done today. It can feel like all those plates will fall if you "check out" long enough to make a business plan. Even worse if you include a few other leaders. It's the beginning of a new year – that internal engine is revving up, it just needs to get moving.
Getting everyone on the leadership team on the same page about where you're going and how you're going to get there takes focus and time, it's true, and it can be hard to nail things down in an ever-changing world. To quote one of my clients, "parts of the plan changed almost immediately, but what we'd learned while making the plan made everything, and I mean everything, work better."
Here are a few tips to make your planning process most effective.
Include your leadership team.
Set specific, measurable, attainable goals for the company for 2016.
In addition to revenue and profit goals, pick 1-3 other measurables to target, like number of new clients or percentage of on-deadline delivery.
Less is more: Set 3-5 goals that, if complete, would significantly move help your firm in the next year (for example: Hire 2 engineers, 1 project manager and 2 interns and effectively integrate them into the team.)
Decide what the priorities (we call them Rocks) are for the next 90 days to achieve these goals, and who on the leadership team will own each Rock.
Keep it simple – don't spend a lot of time trying to lay out the whole year. Your business is moving fast! Things will change. Make progress in 1st quarter, then reassess and set the next Rocks for 2nd quarter.
Reap the rewards: easier work, better communication, faster response to problems – what's not to love?
While this is simple, it is not easy. I offer a free 90-minute consultation and mini-training to help you get headed in the right direction. Let's have a brief conversation and see if that is right for you and your team.  Contact me here.